DATSUN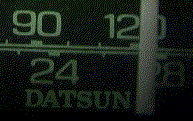 TUNES
Datsuns are so good ya just gotta sing about 'em !
Jump In Your Datsun!
and "The Datsun Brothers"
Joe Butt emailed, to confirm the rumour that a band called Jump In Your Datsun did indeed exist!

The story goes something like this...
Littlehampton (LA) punky new wave band Heartstops had to finish in 1980
when Alan the guitarist went to poly to do electronics. That left Dave
the drummer and me, the singing bass playing songwriter. We decided to
have a new band; initially, we were going to get two keyboard players
and no guitarists but we ended up getting two of Dave's (Worthing) Art
School mates, Simon on keybaords and Barry the guitarist. We wanted to
be a bit modern(e), what with the new romantic thing going on and all,
but old habits die hard and I've always written pop songs with proper
tunes. Anyway, we didn't know what to call ourselves. Dave and I enjoyed
the pop styling of Devo and he came up with the line from 'Come Back
Jonee' that you spotted for your site, and we became Jump in Your
Datsun.
None of the band, by the way, were ever from Bognor, but we did have
associations with the town. There's a certain amount of rivalry between
LA and BR.
Anyway, we quickly got a set together, all new songs, influenced a
little by whatever we were into at the time, especially the Comsat
Angels. We made our debut at Worthing Art College, and went onwards from
there. We recorded two tracks on a compilation LP of Bognor area bands
produced by a local recording studio ('Dead in Your Garden' and '17:5').
John Peel gave us quite a lot of airtime, Barry and I even met him, and
memorably on one occasion he played 'Dead in Your Garden', said
something highly complimentary, then said "As for the rest, I can only
echo the words of George the Fifth, and say 'Bugger Bognor!'" I think we
were the first people to make him swear on the radio. Amazingly, a
couple of years later, someone played me a recording from the radio of
this, not knowing I was in the band, mostly to impress with me with the
song!
After a year, Dave went to Cornwall to study and Simon went (?)
somewhere else. We struggled to replace them and this was when we needed
someone good the most - Dave and Simon were both very good at what they
did. Still, we obtained fresh meat, and carried on, but from then on it
was really Barry and I, with others. Barry had left most of the creative
stuff to me, but he was working very hard to get the band noticed. He
got us gigs all over Brighton and London and we began to build a
following. He dropped a tape of the two songs from the compilation into
Paul Weller's house (big Jam fan, Barry) and that got us a support slot
at their Brighton gig. That in turn got us loads of gigs and publicity,
and we were attracting A&R interest when we played in London. We
recorded a 9-song demo which was produced by the Cure's drummer Lol
Tolhurst, and were then asked to demo a couple of songs for record
companies so we went to London to record for possible single release
DIYG and a new song, 'Boy Wonders'. I signed publishing for these with
Summersongs Ltd, but this was the end rather than the beginning. Despite
this being our big chance, I didn't really feel it was the band I had
wanted anymore, and Barry had worked very hard to get us where we were
and was likely to get rewarded with 2% of each sale, compared to
something like 12% for me. This bone of contention grew flesh and I left
the band, taking the songs with me - no more Jump in Your Datsun.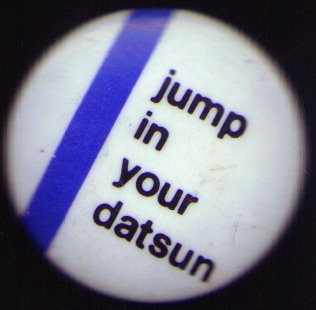 Barry and I didn't speak for a while after that - over two years,
certainly. Then Dave came back from Cornwall, Alan from London, peace
was made and we got together as the Datsun Brothers. Barry had learnt to
sing and to write in the meantime, forming a band called 'Touch' - I'd
continued to write and tried to learn guitar. We played one gig at
Southampton Guildhall and then somehow ran out of time, began careers
and stuff. Me, I never had much of a career until I became a scientist
in the late eighties. Still, Barry and I kept the idea of the Datsun
brothers (Joe Datsun and Barry Datsun, obviously) going for a while,
recording new songs into 1991. Then I got fed up with not singing in
front of anybody, did some gigs with a guitar as Joe Datsun. Initially,
these were half hour sets in some dodgy pub in Brighton or Worthing.
Then I started to do other people's stuff, stopped writing, developed a
set of songs to play, got a computer, started sequencing backing tracks,
started playing longer sets for money, got a PA system, new guitars, and
became one of those irritating pub singers.
In 1998 I was asked to write and record a song to celebrate the
millennium in LA. 'A Place in the Sun' was released in May 2000, with
two other songs of mine on the CD. I signed a publishing deal for the
material, and I'm now writing and performing my own material as well as
other people's. I was 40 in December 2000, so for my party I reformed
all my bands and played through a fifteen or so of my songs, ending with
the single. The band ('No Ordinary Joe') appeared on local radio, local
and national press and on Channel 4 too!
And I'm now a schoolteacher, so a second career.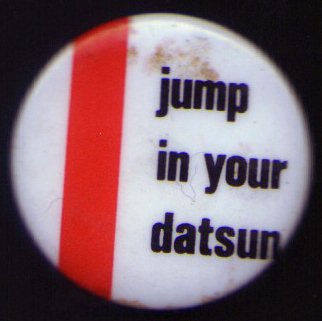 the JIYD badge...
Cheers!
--
Joe Butt
Joe currently drives a Nissan Sunny by the way!
listen to a JIYD track Dead In Your Garden here mp3 3Mb