DATSUN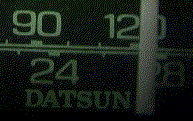 TUNES
Datsuns are so good ya just gotta sing about 'em !
MP3 tracks (these are all excerpts not the whole track)


Can you think of any other make of car mentioned so much in songs? No, neither can I!

---

Grandaddy - Saddest Vacant Lot In All The World

'He's so drunk he's passed out in the Datsun parked out in the hot sun'
---
NEW! Peter Lehndorff sings about his yellowdatsun.mp3

---
Nas raps about a brown Datsun in The Message Thanks Ian for spotting that one.
---

THE DATSUNS, a rock band from Newzealand seem to have sprung out of nowhere and are getting pretty popular here in the UK. Here they are on BBC's Top of the Pops, Oct 2002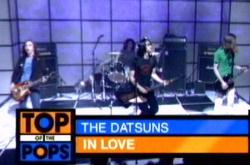 sample of hoochie mama
---

"Size 14" did a great track called rolling in the 5-1-0, 510 is of course a model of Datsun. Lyrics include "Its a Japanese Juggernaut, you better get out the way!" This is definately one of my favourite Datsun tunes!
---

an R&B tune called broke by Cassius Henry mentions Datsun Sunny!

---

How about this, a great surf-rock style song by a band called Sandy, who I assume are Australian. It's about being in school and drawing Datsun Homer Vans and surf boards, joining tables together and using a ruler as a gearstick and dreaming they were driving the "Datsun Homer Van" all over the place. Homer Van
---

Captain pleasure sings "we're doing doughies in the 180B" in this track 500k based on a real life experience that involved evading the police in a Datto and crashing into a cow. (!)
---

Spoon did a funky track called Datsun 250k
---
There's Jethro Tull singing "Buy me a Datsun or Toyota" in Lap of Luxury 540k Mp3
---

Or there's this 1992 song by Thomas Dolby called I Love You Goodbye Datsun is mentioned a couple of times. "Like the time we stole a Datsun" and later the Sherif tells him to "drive this dirty Datsun into the gulf of Mexico" I have joined both bits in one file 143k Mp3
---

Devo sing "Jonee jumped in his Datsun, drove out on the expressway.." Come Back Jonee 250k Mp3
---

There's "Drive their Shiny Datsuns & Buicks" in All I Wanna Do by Joanne Farrell, there is also a version of this by Cheryl Crow 120k Mp3
---

The Beach boys did a song called Cherry Cherry Coupe but I'm afraid that has nothing to do with Datsuns, but you can pretend can't you? 140k Mp3
---

Pete Rock and CL Smooth sing "Why didn't I drive a Benz not a Datsun" in In the House (Well I could answer that one but..) 260k Mp3
---

There's a Datsun song by an Australian guy, Steve Adams on Mp3.com Seems to call it a "Datto" as do other Auzzies.


go take a butchers. Here's a taster (gosh what a fantastic singer, ahem!) The Datsun Song (excerpt) .Mp3 The cover of this cd features a 610

---

There is a "Cornershop" CD featuring track 13 - Summer Fun In a Beat Up Datsun 150k mp3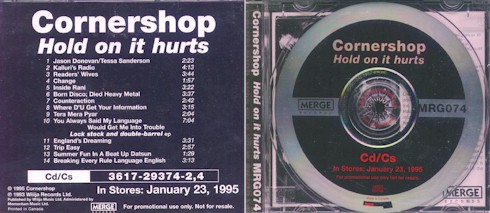 ---

There is a guy from Finland called Ismo Alanko who has a new album out called Sisäinen Solarium (Inside Solarium).
There is a track on the album called Datsun.200k

---

There is an Australian group called the Nissan Cedrics, but the two female singers have never been heard to sing about their namesake car :(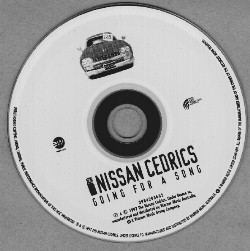 ---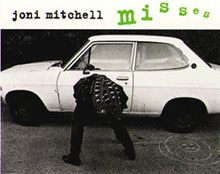 Joni Mitchell must be a Datsun fan, not one but two of her albums feature a B110 2 door.
---
An album by the Cruel Sea has a B210 coupe on it ! More closet Datsun fans me thinks


Thanks to Alan Bent for this picture

---

On a trip to Norway, we discovered a Norweigan band called "Datsun". They are a heavy rock band, with some lyrics that don't leave much to the imagination. This is their album, released in 1999, Preaching the Gospel of Porn.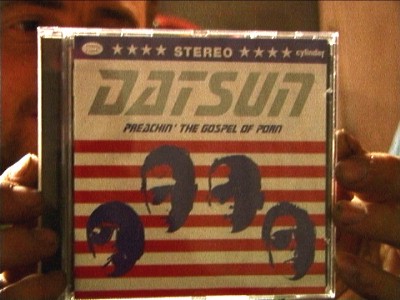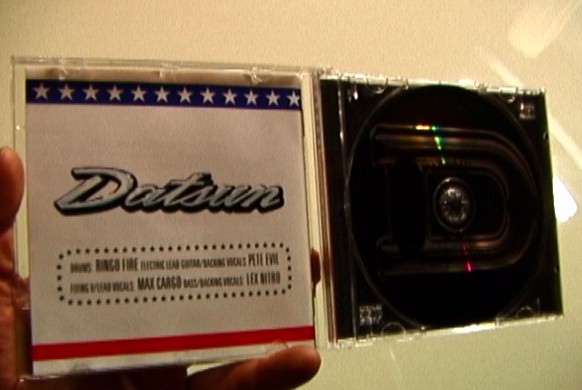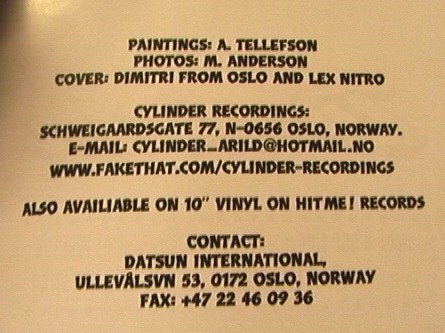 ---
Apparently there was a band called "Jump in Your Datsun" who were from Bognor, UK, in the early eighties. UPDATE: YES! One of the band members Emailled us! See this page
There was also more recently, a band called Stumpy Drives a Datsun, who were from somewhere else on the South coast. UPDATE 28.08.2012 Craig called from Stumpy and told me about a youtube vid of their band, see it here http://www.youtube.com/watch?v=Ps2-GEKBK5U